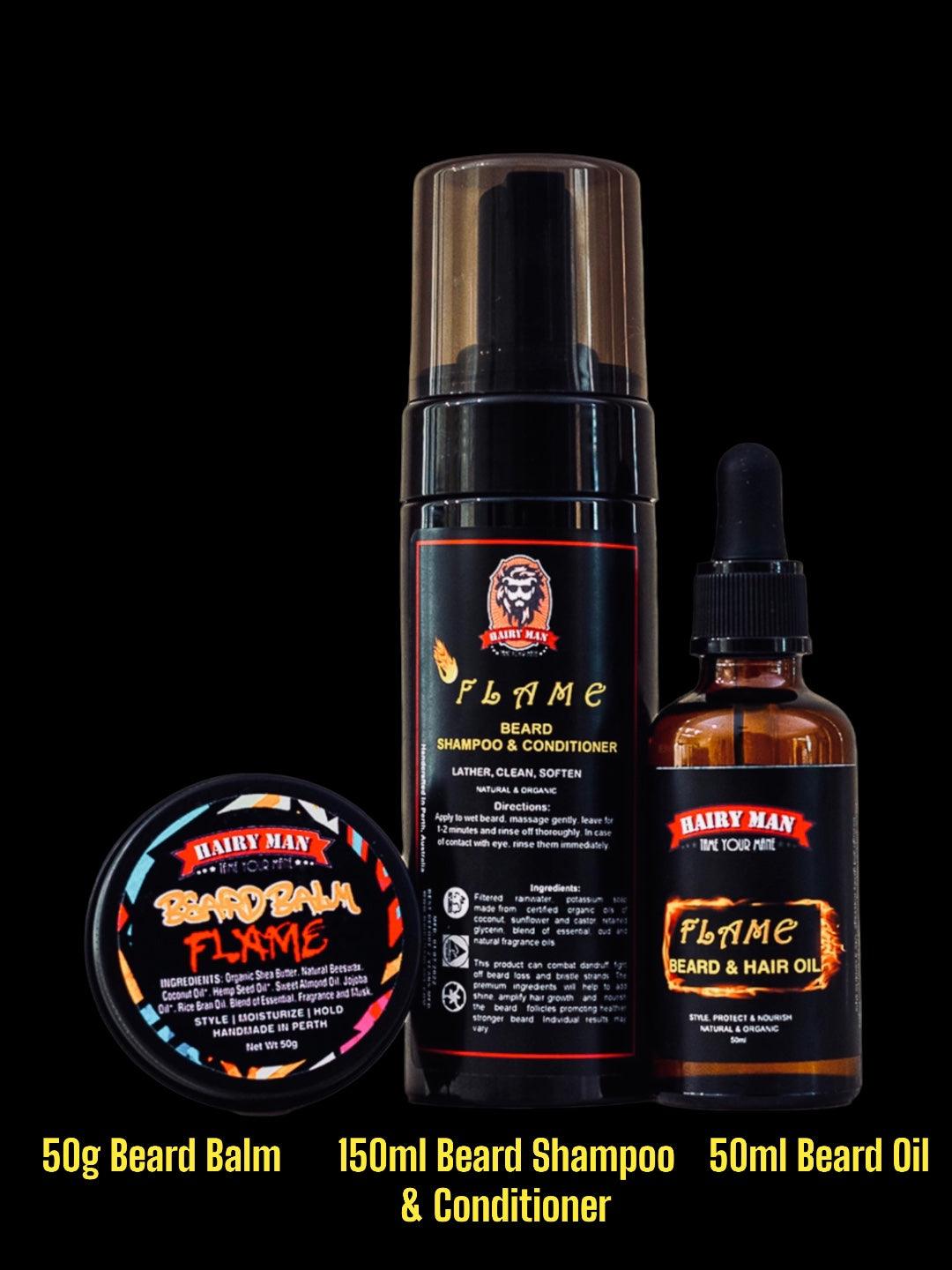 PROUDLY AUSSIE HANDMADE AND OWNED 
DESCRIPTION |
Containing only natural and organic ingredients which are great for your beard and skin, the Triple Care Pack saves you 5% off the total pack and is great if you are looking for just the beard oil, beard balm and beard shampoo conditioner.
The pack includes |
-1 x 50ml beard oil
-1 x 50g beard balm
-1 x 150ml beard shampoo and conditioner
INGREDIENTS BEARD BALMS | Organic Shea Butter, Natural Beeswax, Coconut Oil*, Hemp Seed Oil*, Sweet Almond Oil, Jojoba Oil*, Rice Bran Oil, Blend of Essential, Fragrance and Oud Oil Blends,

INGREDIENTS BEARD OILS | Coconut Oil*, Jojoba Oil*, Castor Oil, Hemp Seed Oil*, Argan Oil*, Vitamin E, Olive Oil, Essential, Fragrance and Oud Oil Blends.
INGREDIENTS BEARD SHAMPOO AND CONDITIONER | Filtered rainwater, potassium soap made from certified organic oils of coconut, sunflower and castor, retained glycerin, blend of Natural Fragrance, Musk, Oud and Essential Oils.
*Certified Organic Ingredient
We got 22 amazing scent blends for you to choose from |
1) Bourbon and Vanilla - Rich warm blend of vanilla, sandalwood, lemon and musk.
2) Citrus Burst - Fresh blend of mandarin, lemon, marjoram, lime, orange and bergamot essential oils.
3) Fresh Fruity - Fresh sweet blend of mint, cherries, strawberries, orange and with a hint of green.
4) Islander - Blend of coconut, vanilla, spice and citrus.
5) Lumberjack - Sweet fresh woody blend of pine, eucalyptus, sandalwood and vanilla.
6) Naked Blend - Unscented but with all the great benefits from the natural and organic carrier oils.
7) Premium Arabian Knight - Spicy muski blend.
8) Sahara - Sweet and fresh muski blend.
9) Woodsman -  Rich warm blend of sandalwood, cedarwood, cashmere wood and musk.
10) Premium Odin's Potion - Spicy, rich and exotic masculine blend of bergamot, birch, patchouli, oakmoss, musk and vanilla. (This scent will attract the attention you need without breaking a sweat)
11) Outbacker - A blend of clove, cinnamon and spice.
12) Hunter - Tobacco, Bay leaf and Sandalwood
13) Old School Barber - Rich and fresh blend of musk, amber, saffron, ylang ylang and clove leaf
14) Salted Caramel - Yummy blend of butter, caramel and vanilla.

15) Kappuccino - Blend of mocha and Turkish coffee
16) Tropical - Blend of fresh Mango, Pineapple, Watermelon and many more tropical fruits.
17) Flame - is seductive and sexy! YOU GOT TO GIVE THIS OIL A SHOT. Blend of cedarwood, warm leather and very deep musk, oud notes.
18) Gentleman 2.0 - is warm and masculine. Blend of Amber, leather, cinnamon, citrus and many other notes.
19) Millionaire 2.0 - Blend of Exotic spices, leather, mandarin, sandalwood, tobacco, and musk notes.
20) Cigarman - made for the smokey cigar lovers out there! This beard oil is masculine, smokey, spicy and woody. Blend of tobacco, musk, oud, cedarwood, scotch, nutmeg, amber and leather.
21) King Of Oud - A blend of pure oud oil from Egypt and Dubai with a deep musky, leathery scent. 
22) Zen Dreamz - A blend of Lavender, Frankincense and Chamomile essential oils.
HOW TO USE |

Let's start with the beard shampoo and conditioner.
Pump required amount to palm, gently rub on wet beard and hair. Leave for 1-2 mins, wash with water,
Tip: DO NOT shampoo your beard every day, only shampoo every 2-3 days a week to ensure the beard's natural oils are not stripped.
Then comes the beard oil. Use the dropper and pump required amount of beard oil onto the palm. Apply the beard oil and run it well through the beard. 

Ensure to warm up the beard oil by rubbing both palms together and then run it deep through your facial hair. It is important to get the oil to the skin underneath the beard, so it helps nourish and moisturize the skin and beard to assist with stimulating growth.
Finally, apply the beard balm to style the beard as preferred.
Similar to the beard oil, the balm is designed to help nourish both the skin and the beard. The only difference is with the balm we have included beeswax, so this product can help you tame your mane! :)
P.S | The skin, hair and beard butter can be used as a substitute to the beard oil OR best to use the beard butter at night prior to bed as it works really well as a leave in conditioner for the beard, hair and skin. (Not to worry, it doesn't leave any stains on the pillows)
TIPS |
-The best time to apply is after a hot shower, when your hairs are cleanest and softest; this is when they will most easily absorb the balms.
-Dry your beard completely before applying any product. Water will prevent the oil and balm from being absorbed.
-Scoop a tiny bit of the beard balm using your thumb and apply it onto your palms to warm it up well. (A little bit goes a long way)
-Once the balm is distributed on your palms, apply it along the sides of your beard and get right in there to ensure the balm gets onto your skin to retain all that moisture.
-Use a wooden beard comb OR brush to evenly distribute the balm while setting the hairs back in place.
All orders are shipped from Hairy Man Care's work-studio in Perth, Western Australia (6000) with Australia Post and a tracking number is issued via email. You must provide a safe and secure address as the courier will safe drop your parcel if you are not at home. 
Delivery times vary depending upon the delivery area. See below for Australia and rest of the world estimated delivery times.  
Please note, orders are picked, packed and posted daily excluding weekends and public holidays.
Orders placed before 12pm AWST will be shipped on the same day.
AUSTRALIA
FREE Nation wide EXPRESS SHIPPING on orders over $90

$6.99 STANDARD SHIPPING on orders below $90

$9.99 EXPRESS SHIPPING on orders below $90
Delivery Area
Standard
Express

Melbourne, Geelong,

6-10 Days

3-4 Days

Ballarat, Bendigo

6-10 Days

Sydney, Wollongong, Newcastle,

6-10 Days

3-4 Days

ACT, Central Coast, Adelaide

6-10 Days

Brisbane, Sunshine Coast,

6-10 Days

3-4 Days

Gold Coast, Hobart

6-10 Days

Perth, Darwin

3-5 Days

1-3 Days

Rest of Australia

6-10 Days

4 Days
REST OF THE WORLD
AU$19.99 flat rate Standard Courier for any order.
How do I track my delivery?
For standard shipping: https://try.sendle.com/en-au/tracking
For express shipping: https://auspost.com.au/parcels-mail/track.html#/track
If you want an impeccably kept beard, healthier looking skin, or a fuller head of hair, you will need to choose the best men's grooming products to deliver the results you want.
But, with a near-countless number of products out there in the market today, how exactly do you know which products will actually help you achieve your goals? Don't worry though because you are not alone. Like you, a multitude of men are finding it hard to find the products to suit their needs.
As your luck would have it though, Hairy Man Care is here to help you choose best men's grooming products in Australia today!
Choose The Highest Quality That Deliver the Right Results at Reasonable Prices
To get the best value for your money, you have to choose the highest quality men's grooming products that actually deliver the results you want but at prices that won't make a huge hole in your wallet.  Unfortunately, there are a lot of products available off the shelf in supermarkets and specialty stores as well as online that overpromise but underdeliver. Of course, common sense would dictate that you should avoid those because you will only be wasting your money.
Here at Hairy Man Care, you will get nothing less than highest quality products that deliver on their promise of providing you with healthier, cleaner, and more amazing-looking beard, skin, and hair. You don't have to take our word for it though. Just check the 1,000's of verified five-star reviews that we have received from completely satisfied men across Australia. All of them can vouch for the quality results that we provide, and we take pride in the fact that all of them have become loyal life-long customers.
Choose To Go With All Natural, Organic, and Cruelty-Free Products
It is a fact that there are products out there that use harsh chemicals and other man-made compounds that can do more harm than good. These can cause negative side effects with everything from relatively minor conditions like dryness, rashes, itchiness, and the like to more serious illnesses like asthma, cancer, and diseases that affect your body's major organs like the heart, kidneys, and liver. What's more is that some of these products are tested on animals causing severe effects and even death. So, there is no question on whether you should avoid these products or not.
As an alternative, you should choose to go with all natural, organic, and cruelty-free products made from Mother Nature's best ingredients and without harmful chemicals. This is what we can offer you here at Hairy Man Care. We use organic jojoba oil, castor oil, organic argan oil, organic hemp seed oil, coconut oil, sweet almond oil, vitamin E oil, olive oil, organic shea butter, cocoa butter, mango butter, kaolin clay, bentonite clay, aloe vera juice, beeswax, and other natural and organic ingredients. Likewise, all our products are developed and manufactured using the traditional Ayurvedic, methodology which do not involve cruelty to animals.
Choose Products That You Know Are Carefully Handmade with by Passionate Aussies
We are not saying that you shouldn't use products made outside of Australia. Our point is that you should consider buying stuff locally designed, developed, and manufactured by Aussies to show your support for your countrymen. Moreover, if you know that the products are made with great love, passion, and dedication, then more reason to buy the products that they have put all that time and effort into creating and bringing to you.
With Hairy Man Care, you will get products that are proudly handmade in Perth, Western Australia. All of us here are proud to be an Aussie-owned and made company that is driven by our love and passion to provide men throughout Australia with exceptionally handcrafted and innovative products that made using traditional techniques but with the latest technologies. Each one of us have dedicated our lives to understanding what men really need and we have taken great care in designing and engineering highly effective men's grooming products that deliver the results you want.
Supporting Men's Mental Health
At Hairy Man Care, we take pride in being a brand for every man who is strong advocate for supporting men's mental health and breaking the stigma that discourages men from discussing or seeking help for the challenges they face. In this regard, Hairy Man Care aims to uplift men's spirits and help them gain the confidence they need by providing them with quality-assured products that make them look and feel good.
Now that you know how to choose the best men's grooming products, are you ready to achieve an impeccably kept beard, healthier looking skin, or a fuller head of hair?
Best beard oil ever!
Get on it guys, i have tried several hairy man scents so far and this is my new favourite! The range keeps getting better and better!
The wife loves it too!
Awesome products Aussie made get on it you wont be disappointed!
Wonderful customer service. Quick dispatch and delivery. I bought this as a gift and my friend has said they love the products and everything smells amazing :) the comb and brushes are lovely and well made. Highly recommend the bourbon vanilla beard butter and the oil and balm in the Gentlemen 2.0 scent! Will be ordering again.
Amazing beard products and will be back for more